The Rise of Thailand's 'Dictator Law'
by Reuters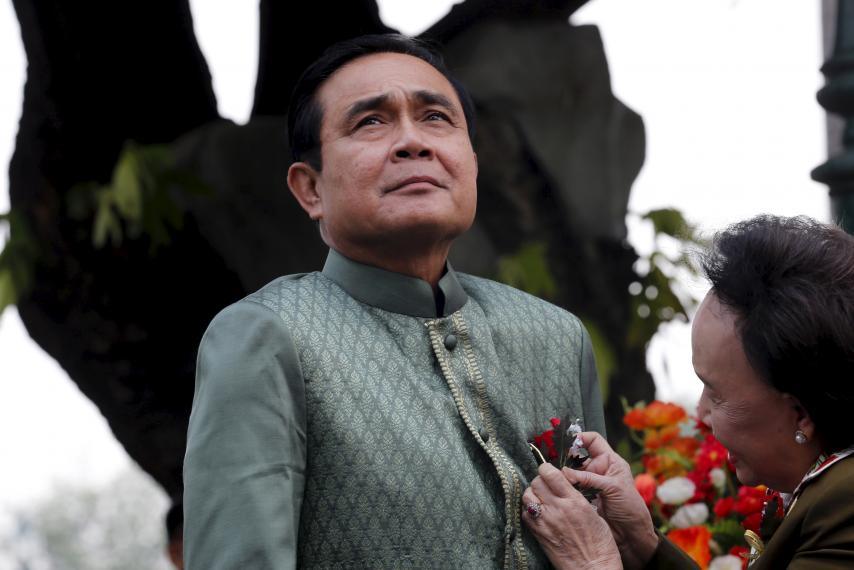 Thailand's Prime Minister Prayuth Chan-ocha receives a flower while arriving at a weekly cabinet meeting at Government House in Bangkok, Thailand, on February 2, 2016. (Photo: REUTERS/Chaiwat Subprasom)
Thai junta chief Prayuth Chan-ocha is relying increasingly on a security measure dubbed "the dictator's law" to push through unpopular policies and kickstart stalled reforms, say critics, who warn it could spark further opposition to military rule.
Prime Minister Prayuth has used the measure, known as Article 44, to fast-track projects ranging from power stations to special economic zones, often over the objections of activists and some members of the public.
Prayuth has used Article 44 more than 50 times since seizing power in a 2014 military coup, and increasingly so since the middle of last year, said Narongsak Niamsorn of iLaw, a Bangkok-based legal monitoring group.
"It gives him too much power and lacks checks and balances and accountability," said Narongsak.
A spokesman for the military government said Prayuth was using Article 44 more often to get things done more quickly, before an election promised for 2017, to the advantage of all.
"There is limited time left to govern and reform the country," said Colonel Winthai Suvaree. "All orders have benefited the people."
Last month, activists decried orders to build 14 power plants across the country, despite health and environmental concerns.
Also last month, Prayuth used Article 44 to remove seven officials from a government health promotion foundation, initially citing suspected graft. But he later apologized, and dropped the suggestion of corruption, after doctors complained of interference.
"The more he does this, the more segments of society he's going to alienate," said Korn Chatikavanij, a former finance minister and senior figure in the pro-establishment Democrat Party.
Prayuth seized power in 2014 promising to reform the tax and education systems, shake up the energy and telecoms sectors, revamp the police and judiciary, and tackle corruption, human trafficking and many other issues.
Now, with the economy stuttering and many key institutions and sectors unreformed, that plan seems ambitious, with doubts about the effectiveness of even a junta crusade against corruption.
In the 2015 Corruption Perception Index released last week by Berlin-based watchdog Transparency International, Thailand was placed 76th among 168 countries – the same as last year.
Prayuth is under pressure to show results, which is why he is relying on Article 44, said one Western diplomat.
"The junta feels that it came in on a platform of reform and very little has been reformed," she said, requesting anonymity due to the sensitivity of the matter.
"So they have used Article 44 to … to show they are reformers."
'IT'S ABOUT POWER'
Last week, Thailand released a new draft constitution which the junta saw as a powerful instrument of reform that would radically reshape their nation's chaotic political landscape.
But critics of all political stripes have pilloried the draft, raising fears that it will be rejected in a referendum scheduled for July, which would delay a general election until late 2017.
Among the institutions that have also proved difficult to reform is the police, a target of would-be reformers for decades.
Apart from appointing a new police chief with close ties to the military, the junta has largely left the police alone. The same goes for the highly politicized judiciary and the military itself.
Two committees looking into national reforms had "achieved nothing", said Korn, the politician.
"So now it's really just about power," he said, referring to the military government's priorities.
Panitan Wattanayagorn, a senior government adviser, denied the reforms had stalled and said Prayuth and his team had laid "complicated" groundwork for lasting change.
"They see a real opportunity to move the country forward," he told Reuters.
While reforms appear stalled, the economy is a major worry.
In a report last month, the government blamed declining exports and a weak currency on the global downturn, and on the policies of the elected government it toppled.
It stressed efforts to tackle human trafficking, over fishing and aviation safety, which came after prolonged international pressure, and attributed a rising number of tourist arrivals to its success at reestablishing stability.
In a recent speech, Prayuth addressed critics of the pace of reform. "I will cite a phrase that you all are familiar with: Rome wasn't built in a day," he said.
[
Newsweek
]
To stay in the loop, bookmark Terra Thailand – The Blog.