Songkran 2016: Water-Splashing Curfews And, Ahem, No X-Ray Pants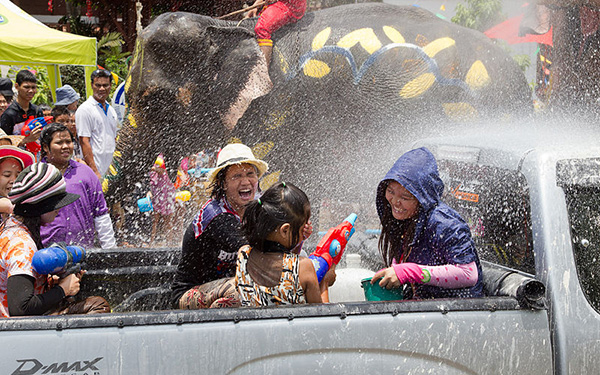 Songkran Festival – or the traditional Thai New Year celebrations – is an annual highlight throughout Thailand, for local Thais, expats and even tourists, who like to piggy back onto the festivities.
As the nation is facing its worst water shortage in twenty years, Bangkok decided it will shorten Songkran celebrations from four to three days, as the festival will be held on April 12-14 across the city, according to deputy governor Amorn Kijchawengkul.
The most visible part of Songkran is undoubtedly the water festival, whereby the major streets of Thailand are covered in people, from young to old, splashing each other, pedestrians and cars with water from water guns, buckets and occasionally even hoses.
Songkran 2016 will be celebrated from April 13 to 17, but the severe drought that Thailand is currently facing has forced Bangkok officials to reduce the size of the water festival.
Bangkok: Curfews
The major Bangkok water fights are typically found on the Khao San Road and in Silom, but you can expect revellers joining in throughout Sukhumvit and the Pratunam areas too.
City Hall has put a curfew on water-splashing, limiting it from just April 12 to 14, and demanding that all water splashing cease after 9pm, reports The Bangkok Post.
A joint meeting held recently between the Bangkok Metropolitan Administration, local business owners, the Tourism and Sports Ministry and the Tourism Police Division, agreed the curfews, with business owners in Silom and the CentralWorld shopping centre agreeing not to provide water to revellers during the festivities.
On Khao San Road, a campaign will be launched in order to better educate tourists on the need to not waste water.
Water consumption typically triples during the Songkran festivities so it's imperative that restraint is practiced during the drought.
Chiang Mai: No X-Ray Pants Or 'Sexy Muscles'
Up north, Chiang Mai officials are more concerned with putting a stop to the apparent sexualisation of Songkran and to help protect the image of Lanna culture instead.
According to Coconuts, see-through X-ray pants (…) have been banned from Songkran, along with any other clothing that could be construed as suggestive when soaked through.
Via Coconuts. This isn't the sexy lingerie we were expecting, truth be told.
In a move to make Songkran a little less sexual, Chiang Mai officials have announced a ban on sexy, see-through "X-ray pants" at the famous water festival.
To protect the image of Lanna culture, any clothing which can appear "suggestive" when soaked with water has been banned from Chiang Mai Songkran celebrations.
This includes the "X-ray pants", which were expected to be a huge trend during Songkran this year.
"What concerns me is online shops have started selling these X-ray pants on social networks. If people wear these pants alone without underwear, it will be considered public obscenity," Chiang Mai governor Pawin Chamniprasart said.
Any daring exhibitionist sporting these sexy pants will face prosecution, Pawin added. He has also urged merchants not to sell the pants.
Aside from the suggestive clothing, officials said they would also ban "sexy dance moves" and "sexy muscles."
Hmm. We'd like to see them enforce that one.
"There were about 22 party stages around the city of Chiang Mai last year," Pawin said.
"On some stages, there were people dancing sexually and men showing off their chests and biceps. It was such an inappropriate image."
If any stage gets too sexual, the officials will immediately close it.
Chiang Mai visitors have been encouraged to wear traditional attire during Songkran.
Officials will ask tour agents, embassies, and hotels to publicize the new rules, Manager reported.
Bangkok Metropolitan Administration has announced the Songkran festival will only last three days this year in the hope of saving water amid the drought crisis.
As the nation is facing its worst water shortage in twenty years, Bangkok decided it will shorten Songkran celebrations from four to three days, as the festival will be held on April 12-14 across the city, according to deputy governor Amorn Kijchawengkul.
Amorn encouraged citizens to spend some dry quality time with their family on April 15 instead, as the famous festival marks the Thai New Year.
Water fights will only be allowed until 9pm each evening to save water.
While the celebrations usually last until late at night in areas like Khao San and Silom Roads, each district has now been instructed to publicize the new rules to locals and tourists.
Amorn added that CentralWorld had agreed to cooperate with the city's policy and will cancel their water filling stations, which means you have to bring your own water from home.
Amorn added the usage of water in Bangkok usually triples during the Songkran festival.
The city expects to save 5 billion liters of water this year by shortening the festival, Daily News reported.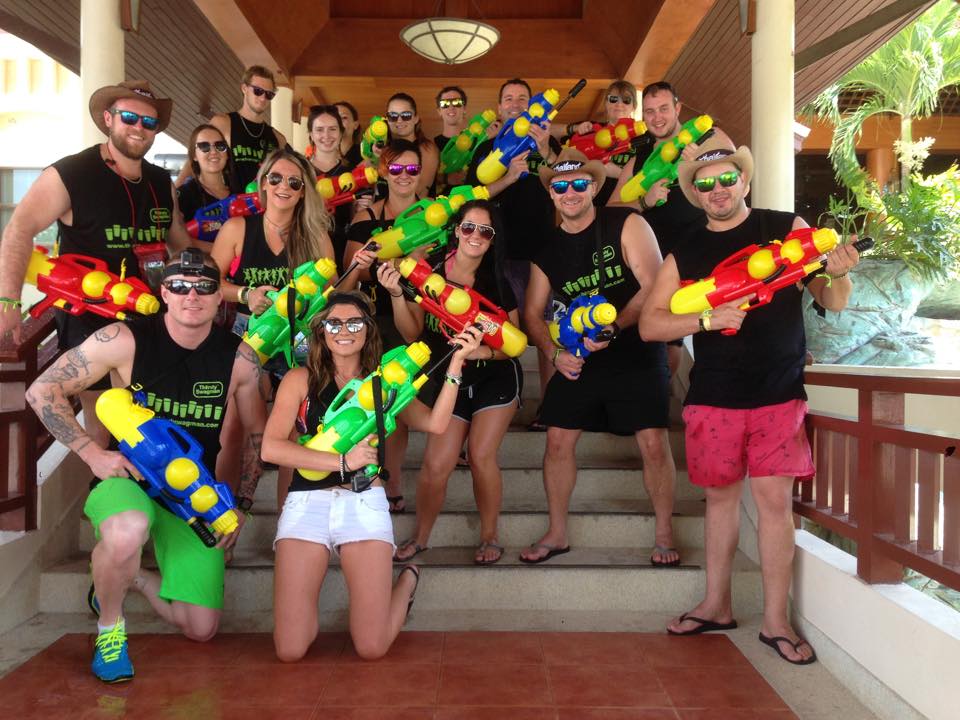 Songkran 2016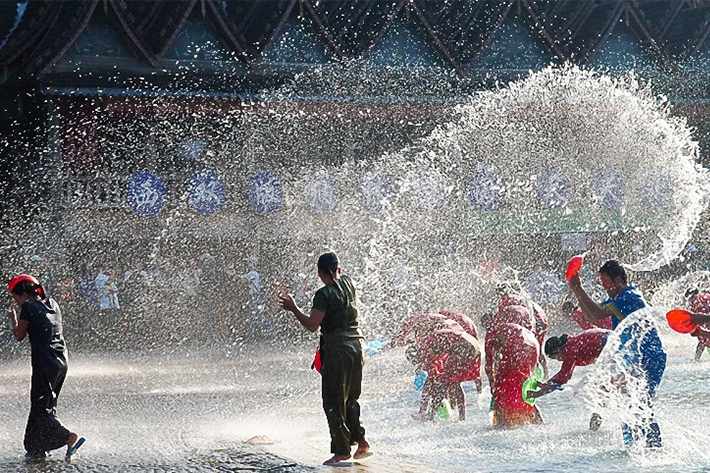 Anyone heading to Bangkok in April for Songkran? The fun-filled water festival will be held from 13 April to 15 April this year.
This annual event celebrates the traditional Thai New Year and friendly water fights will be held along the streets for up to a week. Be psyched up for some soakin' and lots of fun with water!
Many banks, cafes, offices and restaurants are closed during the there-day national holiday and only the large shopping malls remain open. Ditch your plans and everything you would typically do in Bangkok, and have fun at the Songkran Festival. Get ready to be drenched by buckets and hoses of water, water guns and whatnot. Go wild in the broad daylight!
What is Songkran?
To put it really simply, Songkran is just like our Chinese New Year. Even the customary traditions associated with it are pretty similar.
From spring cleaning of the house to family reunions, Songkran is essentially the Thai New Year. The first day of Songkran is National Elderly Day and the second day of Songkran marks National Family Day.
What it Means
Songkran Festival actually holds purposeful meanings behind its water-throwing activities. It all started from the traditional practice of pouring fragrant water into the elders' palms – which symbolises humility.
Additionally, devout Buddhists, too, pour fragrant water over Buddha statues as a religious ritual of making merit.
Where to Go
Unsurprisingly, this water-throwing tradition soon gained worldwide attraction and has even evolved into a global tourist attraction.
Over at Bangkok, there are several designated districts that are especially popular amongst merrymakers. Head over to Khao San Road and Silom for some splashin'.
Many roads such as Silom Road and Khao San Road would be closed from afternoon till nighttime, but the BTS will still function as per normal. However, passengers are required to dry themselves before boarding the trains. 

If you are still looking to shop during the Songkran period, the major malls that will still be open for business include Central World, Platinum Mall and Siam Paragon.
Be Mindful of Who You Throw Water At
While there are essentially no official guidelines to follow, we strongly urge you to do your part as a responsible traveller by not dousing gallons of waters on babies, elderly, monks and motorcyclists. Throwing water at drivers is dangerous and you could cause an accident.
How to Prepare
Before hitting the jam-packed districts, do store your valuables in waterproof bags. Surely you do not want to damage your gadgets by an unexpected incoming bucket of water!
It is recommended that you take public transportation as road blocks might be set up at certain hotspots.
Also, dress in casual clothes so as to not restrict your movements and mobility. Keep the expensive bags and high heels in your hotel. Ladies, you might want to pick waterproof mascaras and eyeliners too.
Click here to bookmark Terra Thailand – The Blog.