Thailand's 'morality cleanse' targets topless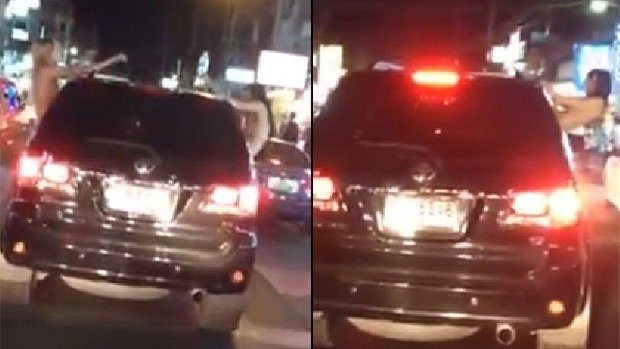 It's no longer "anything goes" as Thailand cracks down on tourists behaving badly.
Thailand has long been as famous for its "anything goes" tourist hedonism as for its natural beauty, Buddhist culture and excellent cuisine.
But as two young female visitors discovered on the holiday island of Phuket, the days of Thai authorities turning a blind eye to the excesses of Western tourists are over.
The women, one American and one Austrian, were each fined and given a stern lesson about Thai culture after a video emerged of them leaning topless from a vehicle during New Year celebrations on a packed street.
In the past, such behavior might have been ignored. But the Thai junta is pursuing a crackdown on scantily clad tourists as part of a "morality cleanse" begun by the ruling generals.
Police began a hunt for the tourists after the clip — which showed them hanging out of a sports utility vehicle as it drove slowly through Patong at 9 p.m., and flashing their breasts as they doused themselves with water — went viral on social media.
The women, named as Adrianna Martin, 20, from America, and Camille Prymann, 25, from Austria, were tracked to a guest-house and charged with indecent public exposure.
"We were made aware of the video at about 2 pm yesterday," Lt. Col Sutthichai Thianpho of the Patong Police told the Phuket Gazette. "It didn't take long to track down the suspects as we had the license plate number of the vehicle."
Can they be safe in bikinis… unless they are not beautiful?
Each was fined 500 Thai baht (about USD $13) and given a lesson in Thai culture and morality by a female police officer.
"We explained to them why such behavior was inappropriate and charged them with public nudity," said Lt Col Sutthichai Thianpho, of the Patong police department.
In November, Phuket city police forced three sunbathers lying in a park in bikinis to put on more clothes.
Honorary consuls for Western countries in Phuket have been invited to a meeting with the governor to discuss dress codes for holidaymakers.
Yet while Thailand is determined to crack down on the display of too much skin by Western visitors, prostitution continues to flourish in tourists spots such as Bangkok, Phuket and Pattaya.
Gen Prayuth Chan-o-cha, the prime minister and junta chief, said: "Foreign tourists should not have a perception that they can come to Thailand to commit illegal activities as often portrayed in the movies. I am ashamed. Do you not feel the same when this is portrayed in foreign films? We have to change this perception."
However, Gen Prayuth had to apologize after he appeared to suggest tourists in bikinis could be putting themselves at risk — unless they were not attractive.
"There are always problems with tourist safety," he said. "They think our country is beautiful and is safe so they can do whatever they want, they can wear bikinis and walk everywhere." But, he added, "can they be safe in bikinis… unless they are not beautiful?"
Amid international condemnation, he quickly apologized and said he was simply urging visitors to "be careful."
[
National Post
]
To stay in the loop, bookmark Terra Thailand – The Blog.