Thailand Police Arrest Foreigner in Bangkok Blast Probe
by Wilawan Watcharasakwet and James Hookway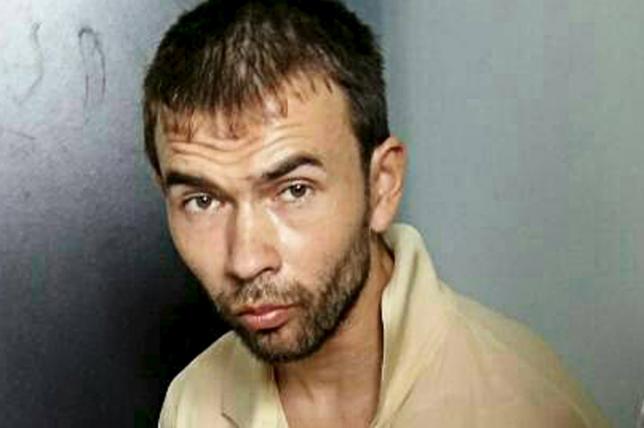 An arrested suspect of the recent Bangkok blast is shown in this Thai Royal Police handout released August 29, 2015. Reuters/Thai Police/Handout via Reuters

Thai police outside an apartment building on the outskirts of Bangkok where a man was arrested on Saturday, Aug. 29, 2015, as part of the probe into this month's deadly bombing at the city's Erawan Shrine. Photo: Associated Press
Police investigating Thailand's deadliest bombing arrested a foreigner they said matched the description of a man who left a bag at the crowded site of a blast in Bangkok nearly two weeks ago. Nathan Frandino reports.
Thai police on Saturday said they arrested a foreign man whom they described as a suspect in this month's deadly bombing of a Bangkok shrine popular with Chinese tourists.
Officials said the 28-year-old man was arrested in a rundown suburb in northeastern Bangkok, where police seized bombing-making equipment, explosives and about 10 passports. Police Lt. Gen. Prawut Thavornsiri told reporters the man has been taken to a military facility elsewhere in the Thai capital for questioning.
The arrest appears to undermine the repeated assertions from Thailand's ruling military junta that the blast was connected to the country's tumultuous political feuds, which include two coups d'état in eight years and a series of bloody riots and mass demonstrations. Instead, it is raising concerns locally that the blast, which killed 20 people and wounded scores more, might have been in retaliation for Thailand's decision in July to deport more than a hundred ethnic-Uighurs back to China.
Police said they couldn't yet confirm the identity or nationality of the arrested man. At least one of the passports found in the room he rented appeared to be issued by Turkey. An official at Turkey's foreign ministry, however, later indicated the passport was a fake. The official also said that, so far, the ministry in Ankara hadn't been contacted about the arrest or to verify the authenticity of any travel documents.
A senior Thai police officer, Pol. Gen. Chaktip Chaijinda, did say, however, that police had invited a Turkish translator to help question the suspect.
The theory that the blast, which killed 20 people, the bulk of them visitors from China or countries with large ethnic-Chinese minorities, is somehow connected to the Uighur cause has grown in strength in recent days, however. Police have fanned out across several districts in Bangkok to question taxi drivers and hotel staff. Some potential witnesses have said police had shown them pictures or copies of travel documents which purported to belong to travelers from the Middle East.
A Muslim-Turkic group, many Uighurs have tried to flee their homeland in western China in recent years to go to Turkey, which has in the past issued passports to Uighurs. Those recently sent back to China were among a group of more than 300 who were detained in Thailand in March last year, as they tried to make their passage to Turkey.
The decision to deport the migrants triggered violent protests outside a Thai consulate in Turkey and has spurred speculation in Thailand that Turkish nationalists might be targeting the country for acceding to China's demands. In addition, the Thai capital's Erawan Shrine, where the Aug. 17 blast occurred, is a popular destination for Chinese tourists. Seven of the dead were from China, with many of the other fatalities coming from ethnic-Chinese communities in Malaysia, Singapore and elsewhere.
If Chinese nationals were the target of the bomb, it would have been a rare occurrence. It is unusual for Chinese citizens to be targeted in terrorist attacks outside China, although cases of Chinese nationals being killed or kidnapped abroad have appeared to increase in recent years in tandem with the country's growing interests around the world.
In July, a Chinese policeman was among those killed in a suicide bombing in the capital of Somalia, Mogadishu. Al-Shabaab, a Somalia-based militant group linked with al Qaeda, claimed responsibility.
In June 2013, two Chinese citizens were among a group of mountain climbers shot dead in Pakistan in an attack local authorities blamed on the Pakistani Taliban. Three Chinese engineers were also shot dead by alleged militants in Pakistan in 2006.
In 2002, a diplomat at the Chinese embassy in Bishkek, capital of Kyrgyzstan, was shot dead along with his assistant while driving outside the embassy, in an attack Chinese officials later blamed on separatists from China's northwestern region of Xinjiang.
Thai authorities initially tried to play down the significance of Saturday's arrest. Last weekend a prominent officer said it was possible the actual bomber might have fled the country. Army chief Gen. Udomdej Sitabutr said in a television interview here Saturday the suspect hasn't definitively been identified as being involved in the blast, and that even if he is, "his level of involvement with the bombing will have to be determined later."
—Jeremy Page in Beijing and Emre Peker in Istanbul contributed to this article.
To stay in the loop, bookmark Terra Thailand – The Blog.