Thailand launches Museum of Corruption
The museum is currently a roving exhibition of ten sculptures, representing ten corruption cases that involved figures from the civil service to television industry.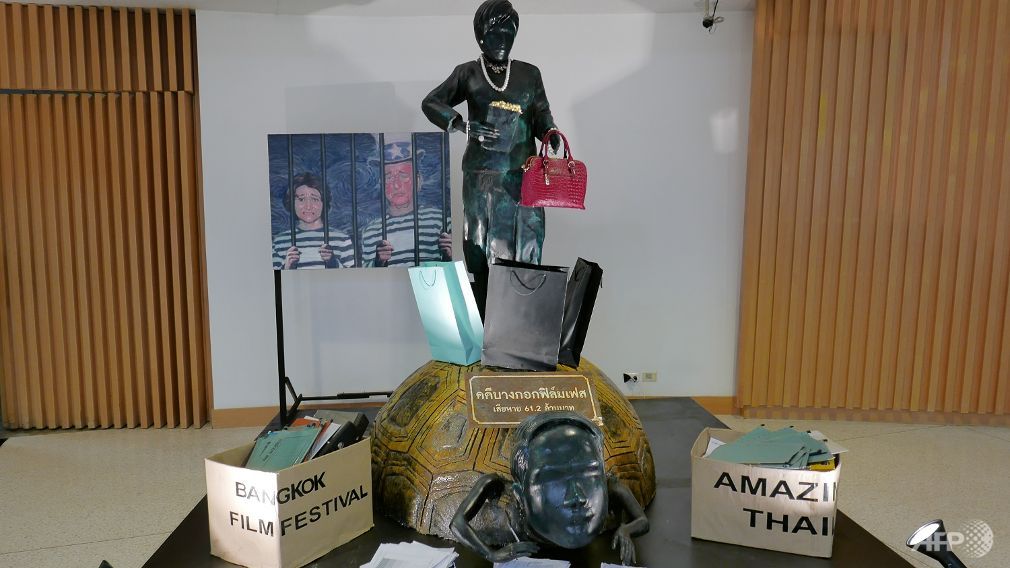 A sculpture at Thailand's Museum of Thai Corruption (Photo: Panu Wongcha-um)
A new museum has been launched in Thailand showcasing big public corruption cases through sculptures.
First introduced on Sep 6 to mark the country's National Anti-Corruption Day, the Museum of Thai Corruption is currently a roving exhibition of ten sculptures, representing ten famous cases.
Highlights include sculptures of a man and woman standing behind a stack of rice sacks, representing the alleged corruption that took place under the rice-pledging scheme introduced by former prime minister Yingluck Shinawatra's government.
(Photo: Panu Wongcha-um)
Another prominent installation shows a misshaped man swallowing building pillars, representing the alleged misappropriation of public funds for the construction of 396 police stations around the country under Abhisit Vejjajiva's government.
There are also sculptures representing other ongoing big corruption cases that involve civil servants and even a television personality.
Pramon Sutivong, the chairman of Anti-Corruption Thailand, a non-profit organisation that founded the corruption museum, told Channel NewsAsia that the organisation intentionally exhibited sculptures of mostly unresolved corruption cases to create public awareness about them.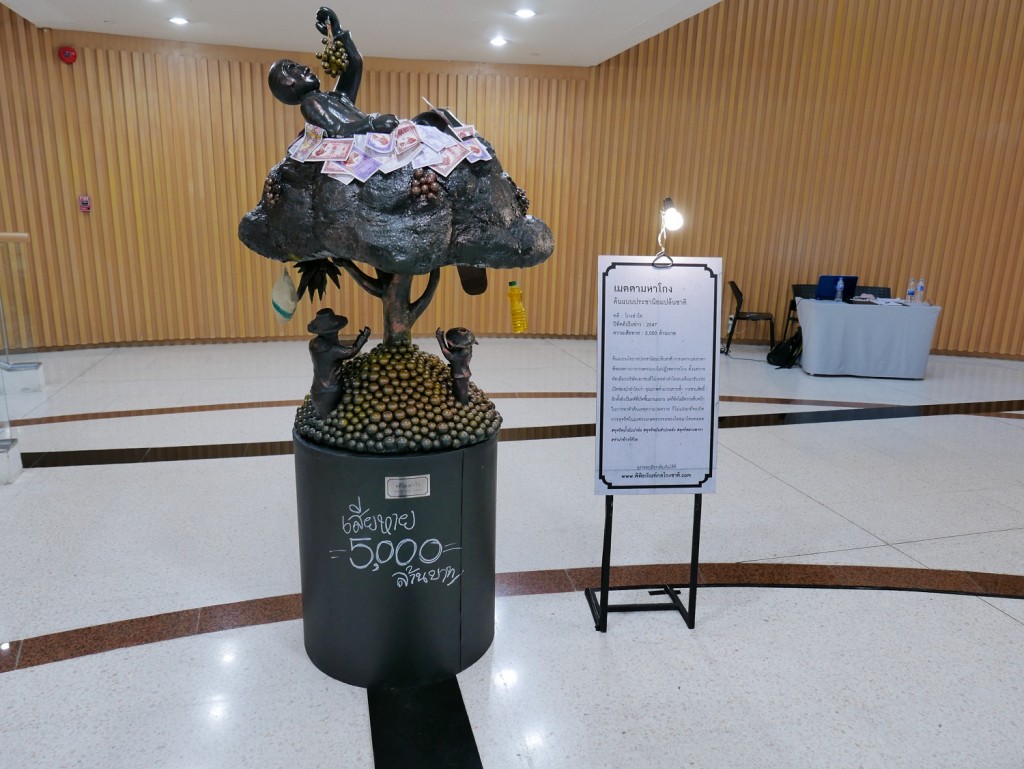 The exhibition did not directly name individuals involved in the ten corruption cases but urged public shaming of the alleged culprits. Pramon said a new exhibition will be introduced in the future to focus on major corruption cases in the past, highlighting the adverse effects they had on Thailand.
Sujane Kanparit, a columnist for Sarakadee Magazine, said the exhibition is highly politicised. "The displays are used to discredit governments that come from elections," he said.
The fight against corruption has often been used as a political tool in Thailand. During the political conflict of 2013-2014, the People's Democratic Reform Committee used corruption allegations against Yingluck's government to mobilise its supporters in street protests.
The Thai military uses the fight against corruption as one of the many justifications for its coup last year.
Thitinan Pongsudhirak, director of the Institute of Security and International Studies at Chulalongkorn University, said there are many forms of corruption in Thailand.
"Sometimes corruption takes place through the misuse of power by officials and public figures to enrich themselves, while other forms of corruption are committed through implementation of public policies that benefit vested interests of those in power", said Thitinan.The often overlooked cause of corruption in Thailand is the country's patronage system,where individuals benefit through personal connections. "The country needs to be more merit-driven to address the corruption issue at societal level," said Thitinan.
The Thai corruption museum is currently on display at the Bangkok Art and Culture Centre from September 15 – 27. The sculptures are likely to end up on permanent display at the office of the National Anti-Corruption Commission of Thailand in the future.
Arts and Graft on display in Thai corruption exhibition
Arts and Graft on display in Thai corruption exhibition

History of Thai greed shamed at 'National Museum of Corruption'
 
Thailand pays lip service to corruption problems with new museum | Asian Correspondent
To stay in the loop, bookmark Terra Thailand – The Blog.