Thailand Gravesite Highlights People-Trafficking Struggle
Mass gravesite found after tip-off that human-traffickers were holding people there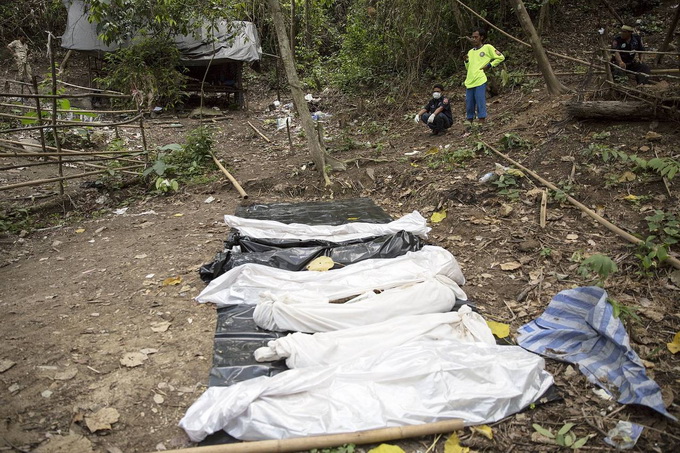 Rescue workers rest behind body bags with human remains retrieved from a mass grave at an abandoned camp in a jungle in Thailand's southern Songkhla province.
PHOTO: REUTERS
The ruling Thai junta's struggle to clean up the country's reputation as a human-trafficking hub has been made more difficult by the recovery of more than two dozen bodies from a jungle camp that authorities suspect smugglers used to hide migrants from Myanmar and Bangladesh.
The gravesite was found Friday at a hilltop site near Thailand's border with Malaysia after a tip-off that human-traffickers were holding people there while waiting for payments from relatives who had already made it to Malaysia. The cause of deaths has yet to be determined, but investigators suspect disease or starvation.
Investigators have previously said that traffickers ferrying people from Myanmar, especially ethnic Rohingya Muslims, use Thailand as a transit point before smuggling people across the border into Malaysia. Human rights workers say thousands of people pass into Malaysia this way each year. It is a perilous journey across the ocean from Myanmar, where Rohingyas are denied citizenship and often live in refugee camps.
Some who don't reach their final destination are a kept for months in jungle camps as their relatives scramble to secure ransom payments, authorities say. Others are forced to work without pay on fishing vessels in the region.
The long-standing problem poses potentially significant sanctions for Thailand's economy, which is already struggling with dwindling exports and slowing consumption following a military coup in May last year.
The European Union is threatening to ban some $700 million a year in seafood imports if Thailand doesn't make a marked improvement in ensuring labor standards in an industry hit by allegations of slave labor and violence. Brussels has given Thailand six months to clean up the industry.
Last year the U.S. State Department downgraded Thailand to tier 3, the lowest possible ranking in its annual Trafficking in Persons report, noting that the country is a destination, source and transit point for trafficking.
The report pointed out that ethnic minorities such as stateless Rohingya migrants are especially vulnerable to exploitation. Thai authorities found hundreds of Rohingyas in January 2014 near where the gravesite in southern Thailand was discovered on Friday.
The country can ill-afford to be embroiled in further trafficking scandals. Exports shrank in both 2013 and 2014, and contracted further in each of the first three months of this year. In the past week, the central bank cut interest rates for the second successive month to help weaken the currency and buoy growth and made it easier for Thais to invest overseas, to further nudge the baht down and make it more competitive against the currencies of neighbors such as Malaysia and Vietnam.
Police General Jarumporn Suramanee told reporters Sunday local police are stepping up their investigation into suspected trafficking cartels to stamp out the trade. He said the bodies discovered Friday—25 male and one female—might have died at different times over the past few months and that autopsies would have to be performed to determine the exact cause of death and to help identify the corpses, some of which are badly composed.
A badly emaciated survivor who was found near the scene, meanwhile, is being treated in hospital.
A Thai government spokesman, Gen. Sansern Kaewkamnerd, said the junta was determined to end people-trafficking and bring those involved to justice.
—Wilawan Watcharasakwet and Nopparat Chaichalearmmongkol in Bangkok contributed to this article.
[H/T
The Wall Street Journal
]
For bizarre stuff and news oddities check out the link: