Thai Woman Faces Sedition Trial for Posing with Red Bowl
Woman faces military trial, 7 years in jail for Facebook posting.
Sedition charges for a Facebook photo expressing symbolic support for Thailand's political opposition shows the military junta's utter disregard for peaceful dissent, Human Rights Watch said today. The National Council for Peace and Order (NCPO) junta should immediately end its abusive use of the draconian sedition law against peaceful critics and dissenters.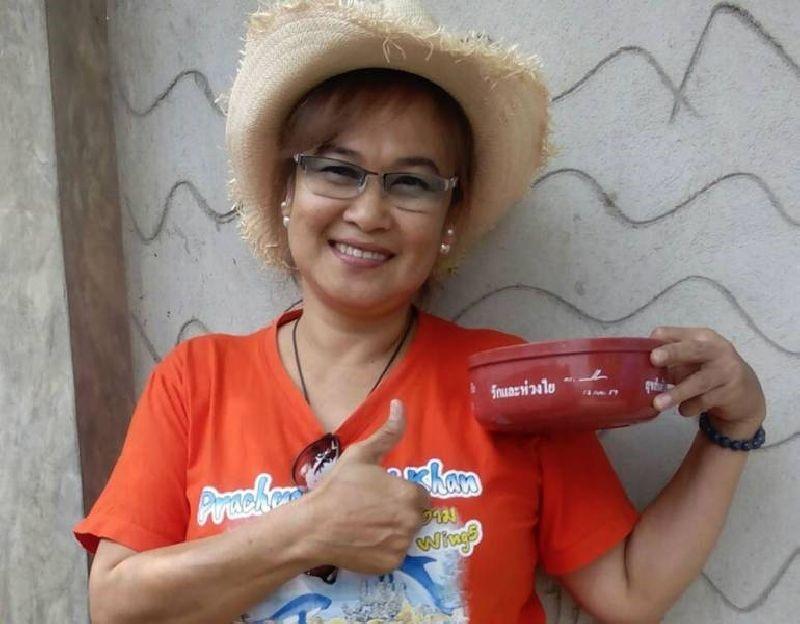 Theerawan Charoensuk faces a sedition charge in Thailand's military court for posting a photo of herself holding a plastic bowl that she received from the deposed prime ministers.
(© 2016 Private)
On March 29, 2016, authorities arrested 57-year-old Theerawan Charoensuk for posting her photo holding a red plastic bowl inscribed with Thai New Year greetings from former Prime Ministers Thaksin Shinawatra and Yingluck Shonawatra. Chiang Mai military court released her on 100,000 baht (US$ 2800) bail pending a military trial. If found guilty, Theerawan could face up to seven years in prison.
"The Thai junta's fears of a red plastic bowl show its intolerance of dissent has reached the point of absolute absurdity," said Brad Adams, Asia director. "When military courts try people for sedition for posting photos with holiday gifts from deposed leaders, it's clear that the end of repression is nowhere in sight."
Deputy Prime Minister Gen. Prawit Wongsuwan defended the charges in a media interview on March 29: "The charge [against Theerawan] is not arbitrary or groundless. She violated the law. Tell me if you think what she did was not provocative or led to division in the society. We don't want to arrest anyone. But those people should listen to our warning not to undertake political activities."
The junta considers any peaceful expression of dissenting opinions to be a threat to national security. The military authority also prosecutes those it accuses of being involved in anti-junta activities or supporting the deposed government.
Sedition is defined under article 116 of Thailand's Criminal Code as:
Whoever makes apparent to the public by words, writing or any other means anything which is not an act within the purpose of the constitution or which is not the expression of an honest opinion or criticism (a) in order to bring about a change in the laws or the government by the use of coercion or violence, (b) in order to raise confusion or disaffection amongst the people to the point of causing unrest in the kingdom, or (c) have people violate the law, shall be punished with imprisonment not exceeding seven years.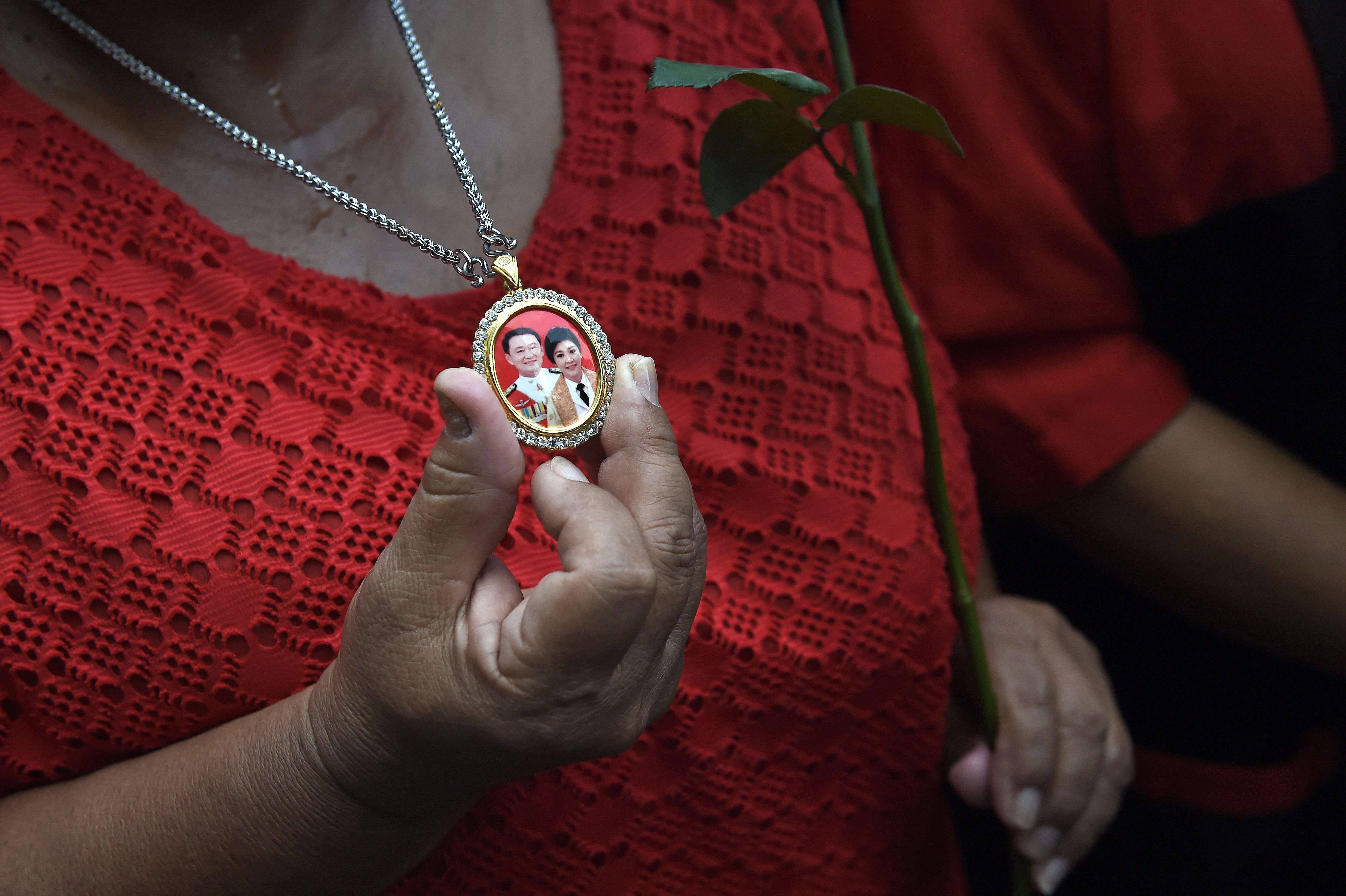 A supporter of deposed former Thai prime minister Yinglick Shinawatra shows a medal carrying pictures of her and her brother, exiled former prime minister Thaksin Shinawatra (AFP photo)
Since the military coup in May 2014, at least 38 people have been charged with sedition – including former Education Minister Chaturon Chaisaeng for a speech at the Foreign Correspondents Club of Thailand criticizing military rule (May 2014); Sombat Boongamanong, an activist, for Facebook and Twitter posts calling people to join anti-junta rallies (June 2014); Pansak Srithep, an activist, for saying the military should be held accountable for the 2010 political violence and calling for an end to military trials of civilians (March 2015); and 14 activists from the New Democracy Movement (NDM) for staging a rally demanding a transition to democratic civilian rule (June 2015).
NCPO chairman and Prime Minister Gen. Prayut Chan-ocha said at a January 21 news conference that the authorities had wide leeway to arrest anyone deemed to be opposed to military rule:
Why don't people respect the laws instead of asking for democracy and human rights all the time?… No one is allowed to oppose [the NCPO]. I dare you to try to oppose [the NCPO]…. I don't care what the international community would think about this. I will send officials to explain to foreign embassies. I am not afraid of them. I will tell them to understand that this is Thailand and we are enforcing Thai laws.
"Thailand's friends and neighbors should make clear that with each ludicrous new arrest, the junta's global standing drops lower and lower," Adams said. "They should press the junta to end its persecution of peaceful dissent and fulfill its frequent promises to restore democratic rule."
[
Human Rights Watch
]
Further reading:
Thai woman charged with sedition over photo of 'provocative' red bowl

Update:
10,000 'Red Bowls' Confiscated, Deemed Threat to National Security

Thai police seize Thaksin Shinawatra bowls

Click here to bookmark Terra Thailand – The Blog.