Thai military storm expats' bridge club after gambling tipoff
Thirty-two people were arrested for possession of playing cards, but none expected to be charged after bridge league president intervenes.
by Peter Walker

A game of bridge

The tipoff talked of an illegal gambling operation, and 50 police and military personnel stormed the upstairs room in the Thai beach resort of Pattaya. But rather than a den of iniquity, they instead found a bridge club frequented mainly by British retirees.
Officers nonetheless arrested all 32 people found on Monday night at the Jomtien and Pattaya bridge club, which meets three times a week in a room above a restaurant, the Pattaya One website reported.
Since no money was changing hands with the cards, the players – mainly British but also some Dutch and Scandinavian nationals – were held under a Thai law from 1935 that says no one can possess more than 120 playing cards at a time. Another alleged offence related to the fact that the cards did not have an official government seal on the boxes, one player told the website.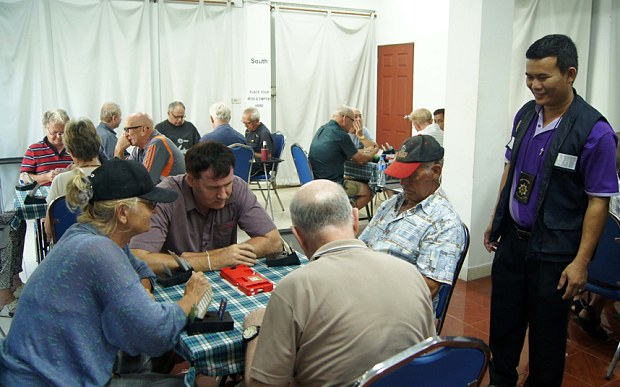 Thai police raid in Pattaya as pensioners played bridge. (Photo: Pattaya One)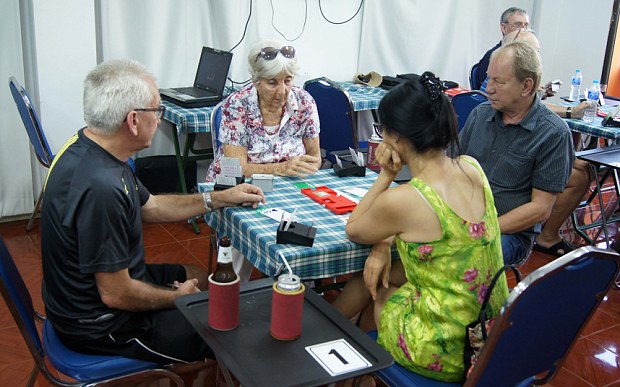 Thai police raid in Pattaya as pensioners played bridge. (Photo: Pattaya One)
Reports named the organiser of the club, Jeremy Watson, 74, as among the 26 men and six women detained. Another was reportedly an 84-year-old Dutch woman. Police seized cards, computers and book of bridge results as evidence, Pattaya One said.
A note on the club's website said it was temporarily closed "whilst we get a new licence to have cards on the premises". It added: "All problems have been solved with understanding by the authorities."
One player, who was not named, told Pattaya One that those arrested were held for 12 hours before being bailed for 5,000 baht (£95) each.
The player said it was believed they would not be charged, following discussions between senior local police officers and the president of the Thai bridge league, "who travelled to Pattaya to provide further information on bridge and how it is played for points and not money".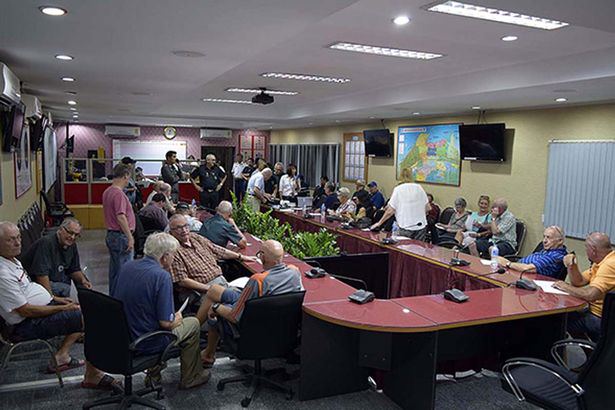 The elderly cards players were questioned at a police station.
Club organisers protest their innocence.
Associated Press named the president of the bridge league as Chodchoy Sophonpanich, a civic activist who is also a member of Thailand's most prominent banking family.
"Police know that bridge is a sport because a similar case happened before, but this time it was military and district officials who initiated the raid and they probably didn't know," Chaiyut Assanaiyarat, the bridge league's manager, told AP.
Thailand's military prime minister, Prayuth Chan-ocha, launched a crackdown on illegal gambling after taking power as part of a broader anti-corruption campaign.
Pattaya, about 100 miles from Bangkok on the Gulf of Thailand, is a hugely popular resort that has – unlike the bridge club – an arguably well-merited reputation for impropriety, notably connected to the sex industry.
It also has a significant population of older European nationals, drawn by the heat and relatively low cost of living.
[
The Guardian
]
Further reading:
Elderly British bridge enthusiasts nabbed in Thai anti-gambling raid

Brits arrested after Thai police swoop on bridge game of elderly cards players

Thai police arrest elderly bridge players in Pattaya – BBC News

To stay in the loop, bookmark Terra Thailand – The Blog.