Leadership uncertainty fuels Thai fears
As a local guide leads a group of European tourists out of a packed Wat Phra Kaew, or Temple of the Emerald Buddha, the ornate holiest of holy places in Thai Buddhism, she gestures toward a nearby belfry. "It is only rung for two reasons, to announce a new king or a new head of the Buddhist clergy," she says as the visitors turn their cameras and smart phones toward the towering, floral mosaic structure topped by a still, silent pale green bell with gold borders. The last time it rang was "before I started working here," she adds with a giggle, referring to 1989, when a new supreme patriarch in this predominantly Theravadha Buddhist country was named.
Traditional ritual is no laughing matter in Thailand. A steady dose of worrying news keeps the public on edge about the two most important institutions — the monarchy and the monkhood — that have played a role in shaping Thai identity. Since Feb. 18, palace officials have taken the extraordinary step of keeping open the blue wooden doors of a stately, modern building near the entrance of the sprawling Grand Palace complex in historic Bangkok, where the sacred temple also sits, for the public to sign a book expressing wishes for good health to King Bhumibol Adulyadej, the frail and elderly monarch.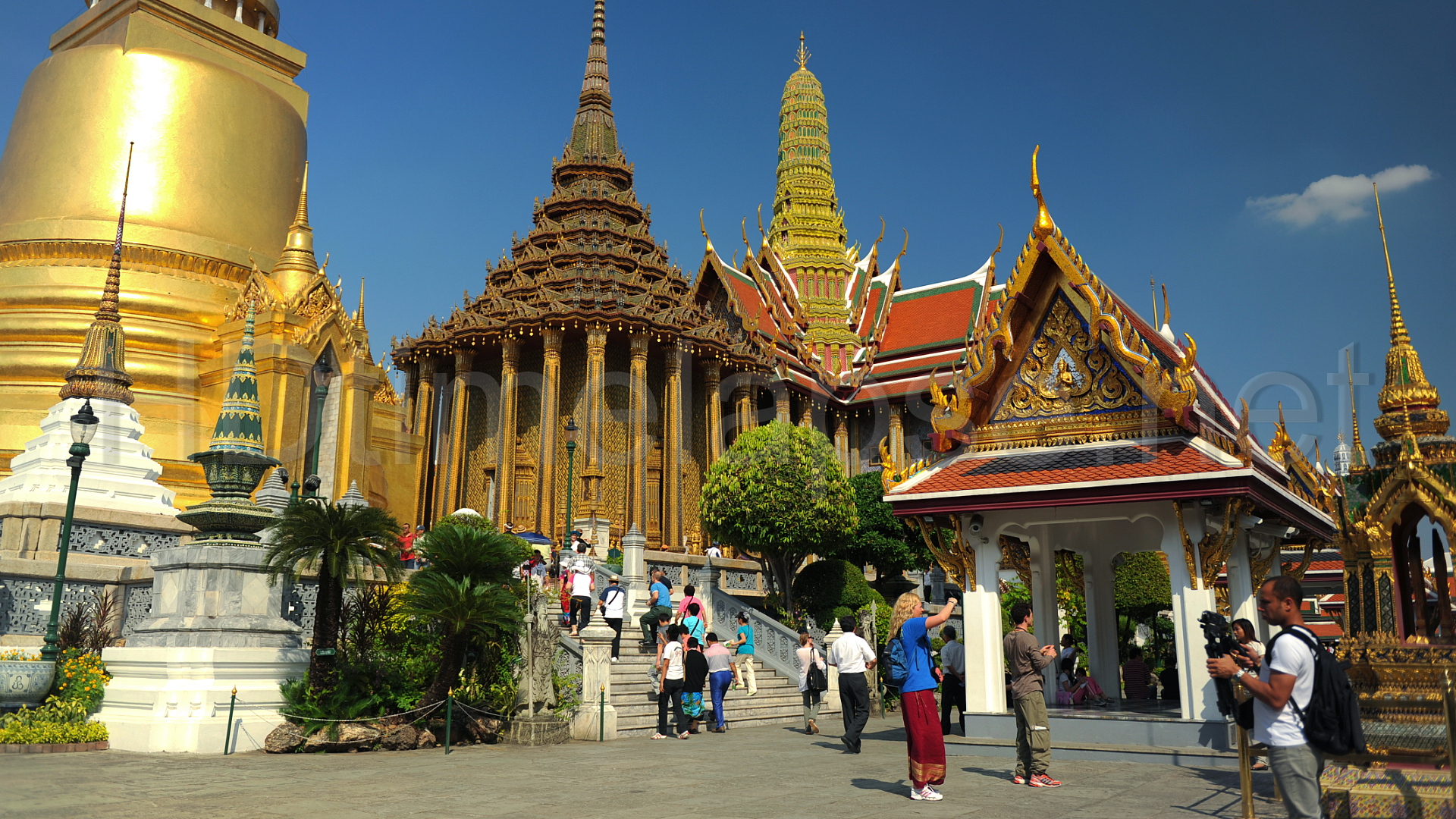 Wat Phra Kaew, Temple of the Emerald Buddha
Both ordinary people and members of the upper class have expressed their concerns about the 88-year-old king, the world's longest-reigning living monarch. Thai visitors, mostly dressed in casual street clothes, thread their way through throngs of tourists to write their names in large books on tables manned by uniformed officials in a wood-paneled room. Formally-dressed aristocrats, bureaucrats and uniformed members of the ruling military regime write their names in an adjacent carpeted room, where they bow or prostrate themselves before a photograph of the monarch placed on a covered stand surrounded by vases of yellow flowers.
"This change of practice may signal something, but beyond that there is only speculation," said a Thai political insider familiar with palace conventions. "It is very good that the Thai people have responded to this new procedure to sign a book for His Majesty's health at the Grand Palace."
Between the lines
The unusual gesture by the palace courtiers followed the latest drips of official news about the monarch's health from the Bangkok hospital where he has spent most of the last six years. Doctors were treating him for a 38.1 C fever, fatigue, rapid breathing and high blood pressure, according to a bulletin from the palace in mid-February — the 20th hospital report since October 2014. The details of the treatment, including two antibiotic drugs he had been given intravenously, created unease. "Everybody reads between the lines of the palace's health statements," said the Thai owner of an upmarket restaurant in Bangkok. "You can hear it in their small talk; there are worries after the latest bulletins."
Concern over the health of the king, whose reign since 1946 has been regarded as a source of national stability, has grown since his youngest daughter made a rare public appeal about the well-being of her father in September. Princess Chulabhorn asked the nation to recite a special Buddhist healing prayer, Pochankaparita, fueling anxiety about the almost godlike figure who has dominated the nation.
The monarch has not been completely out of sight since then. In December, he was seen swearing in judges at his Bangkok hospital, and in January he made a brief visit to Chitralada Palace, his longtime and official residence. This offered a chance for his adoring subjects to sport yellow shirts, the monarch's color, and to prostrate themselves on the floor when he passed.
This national anxiety is deepening, fed by what Kan Yuenyong, executive director of Siam Intelligence Unit, a think tank, describes as a "creeping uncertainty about what will happen next." The uncertainty is deepening due to another worrying development. The other influential shaper of the Thai soul — the Buddhist clergy — is slipping into turmoil, illustrated by unbecoming scenes at a mid-February protest at a Buddhist sanctuary on the western edge of Bangkok, where saffron-robed monks pushed and shoved soldiers. The monks are angry because no official successor has been named as supreme patriarch to follow Somdet Phra Nyanasamvara, who died in October 2013 at the age of 100. He was cremated last December in a ceremony steeped in Thai monastic and royal rituals.
Somdet Phra Maha Ratchamangalacharn, the acting supreme patriarch, is facing resistance from some of Bangkok's influential conservatives, which has angered the monks. The critics of the soft-spoken Somdet Chuang, as he is also known, are worried that he has fallen under the influence of an extremely wealthy and popular Buddhist order, Dhammakaya, led by a controversial monk who is being investigated for financial irregularities. Somdet Chuang, who is 90, has also had to fend off questions about Dhammakaya's links to Thaksin Shinawatra, a former prime minister who was ousted by the military in a 2006 coup. His sister Yingluck was also removed as prime minister by the courts just before a May 2014 coup by Thailand's top generals.
Growing polarization
These fissures reflect the country's deep political divide, between pro-Thaksin supporters in the rice-growing rural heartlands and his more affluent opponents in Bangkok. Analysts fear this polarization is affecting the traditionally apolitical culture of Thai Buddhism, with some saying that Buddhism is under threat and will be divided like the nation.
"This is a very sensitive issue and can become explosive," said Sanit Nakajitti, director of PSA Asia, a political risk and security consultancy in Bangkok. "That is why the regime is dancing around it, (having) realized there is strong resistance."
Just inside the entrance of the temple is a small bronze statue known as the hermit. This is Cheewaka Komarapach, the father of Thai herbal medicine.
The climate of anxiety has strengthened the military regime's claims that it is the only source of stability at a time of institutional transition. This is a card that former general and now Prime Minister Prayuth Chan-ocha, head of the National Council for Peace and Order, as the regime is officially known, is playing to full effect through propaganda designed to win public sympathy. "People in these uncertain times see the military as a source of stability," said Panitan Wattanayagorn, an advisor on security affairs to Prawit Wongsuwan, the deputy prime minister and, like Prayuth, a former top general. "The trick is to make sure the military walks a fine line till the elections in 2017, and continues to play a certain role to ensure stability."
Yet, even the belief that the military serves as a force for stability has not silenced some influential voices. Well-known astrologers have weighed in with forecasts that are feeding the sense of foreboding in a country where superstitious beliefs run deep. Pinyo Poncharoen, a leading light at the International Astrologers' Association, drew widespread media coverage for his declaration that 2016 will be a year of "severe" change in Thailand, based on his interpretation of coming shifts in planetary positions. Fongsanaan Jamornjan, another Thai seer, is also predicting change as the country enters a "new era," beginning, he said, as early as March — all of which suggests what many Thais think but fear to discuss openly.
[
Nikkei Asian Review
]
Click here to bookmark Terra Thailand – The Blog.