Lao Butcher Held in Grizzly Murder Dismemberment of Woman
Police have charged a Lao butcher with killing and dismembering a woman whose body parts were found in widely separated Bangkok khlongs during the day on Sunday.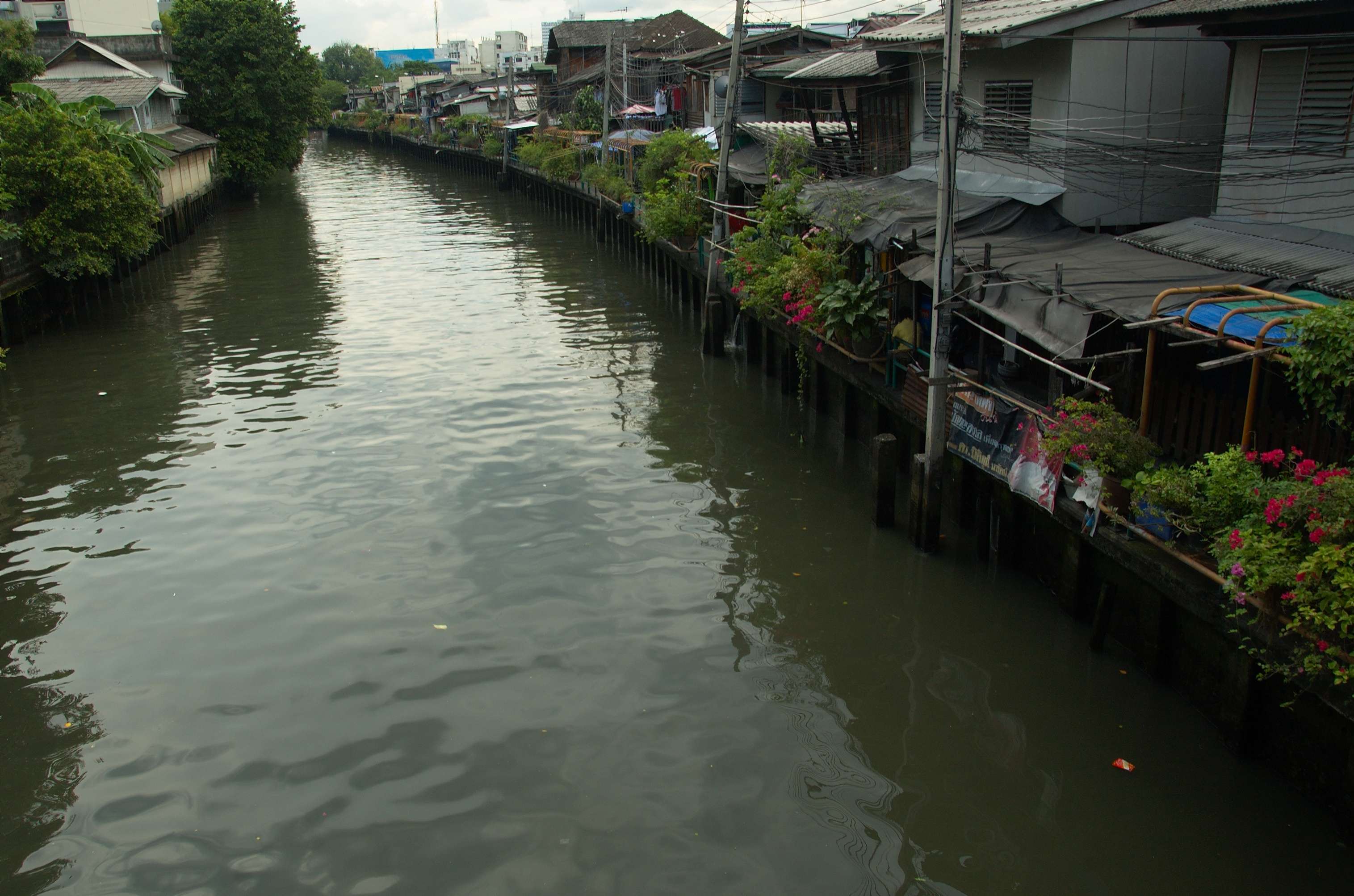 Klong Saen Saep in Bangkok, Thailand where four body parts were recovered
Police have charged a Lao butcher with killing and dismembering a woman whose body parts were found in widely separated Bangkok khlongs during the day on Sunday.
Hua Mark police late Sunday arrested and charged Jai Kenwankham, 39, with killing and mutilating a woman identified only as Mali, who they described as a Shan (Thai Yai).
The body parts of a woman were found at five different locations in five locations of Bangkok khlongs by citizens on Sunday. Police believe the killer cut up the dead woman and tossed the body parts into one khlong, where currents and tides scattered them.
Police and reporters gather around Jai Kenwankham, a 39-year-old Lao butcher charged with killing and dismembering a woman whose parts were found in Bangkok's San Saep and Phra Khanong canals, at a crime scene re-enactment. The suspect confessed he strangled the woman with his bare hands after she refused to marry him. (Photo by Thanarak Khunton)
Mr Jai was arrested at his apartment at Soi Ramkhamhaeng 35 of Bang Kapi district.
Police said after questioning him that Mr Jai admitted knowing the woman for a year. She had been missing since last Thursday from the karaoke shop where she worked. Her boyfriend reported her disappearance to police after hearing news reports of the body parts.
Police said Mr Jai confessed that the murdered woman had called him about 6am last Thursday, asking if she could rest at his apartment. When she arrived, he said he asked her to marry but she refused, sparking an argument.
Mr Jai allegedly told police he strangled the woman to death with his bare hands. An experienced butcher once employed in a pork abattoir, he then cut up her body, put the parts in a used fertiliser sack, and dumped it in the Saen Saep canal near his home.
Members of the public found body parts during the day on Sunday. Authorities said five body parts were recovered in four watercourses.
A body part from the abdomen to the pelvis was found in a Phra Khanong canal in Soi Pridi Banomyong 14 in Suan Luang district about 11am.
According to Khlong Tan police, the body part was found tied to a pier close to Phakamat village in Soi Pridi Banomyong 14.
Meanwhile, four body parts were also discovered in three separate areas in Saen Saep canal in the afternoon.
A head and a right leg were discovered in the Rama IX water pump station in Huai Khwang district.
A left leg was found at the Wat Tuek Ramkhamhaeng community pier in Soi Ramkhamhaeng 39 Wang Thonglang district. The victim's nails were polished pink.
Police believed the arm had been severed five to seven days before as the limb was in a state of decomposition.
The body parts and identifying marks, along with the belated missing-person report, helped police to identify the body, which in turn led them to Mr Jai, who quickly became the chief suspect.
Weera Sompornlertrat, 25, resident of a homeclose to Phra Khanong canal, said while he was riding his boat, he spotted the first human body part floating along the canal.
He used a rope to tie the body part to the pier and called police.
A police inspection team was also sent to inspect areas from Phetchaburi Road in Pratunam area to the Phra Khanong canal.
Police also checked nearby police stations to find whether anyone had filed missing person reports.
Sanit Mahathaworn, acting commissioner of the Metropolitan Police Bureau (MPB), confirmed the dead person was an Asian woman with a white complexion, aged about 30, according to a DNA sample retrieved from the parts.
He also asked people who had missing relatives or acquaintances to notify police as soon as possible, particularly those who lived in Makkasan and Khlong Tan areas including communities along Khlong Saen. That led to the information from the victim's boyfriend.