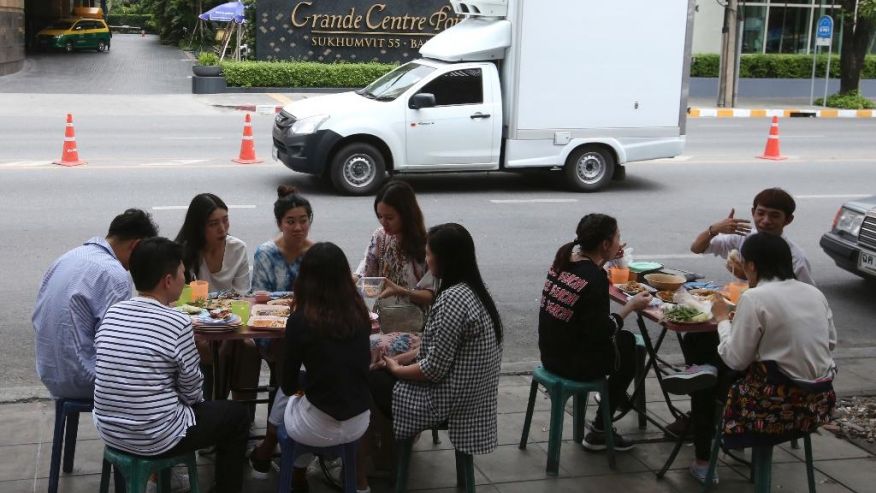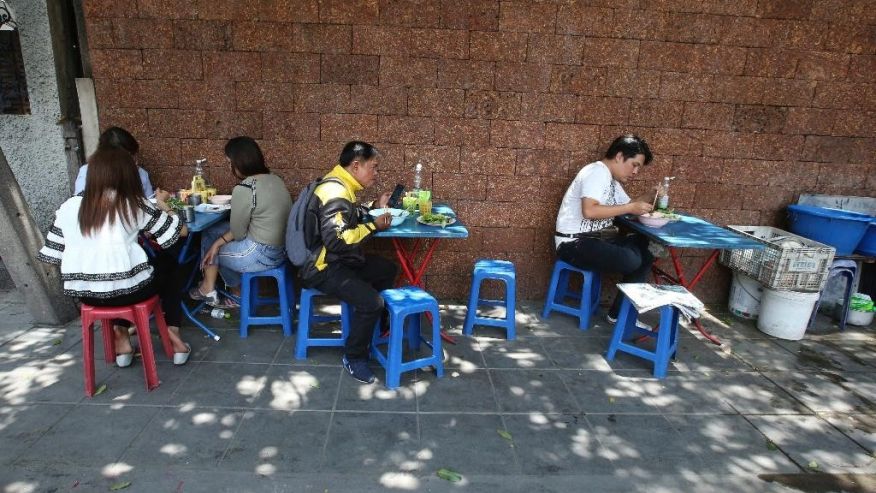 In theses April 7, 2017 photos, people eat noodles at a street food shop during their lunch on Thonglor road in Bangkok, Thailand. Officials see street food as an illegal nuisance and have warned hawkers in Thonglor to clear out by April 17. Efforts by authorities in military-ruled Thailand to impose order on the chaotic capital city have a fresh target: cheap and tasty pad thai. The latest crackdown by Bangkok city officials is going after the vendors whose carts selling everything from Thailand's signature noodles to spicy tom yum goong soup have become institutions on the capital's hot and humid sidewalks. (AP Photo/Sakchai Lalit)  (The Associated Press)
Bangkok's sidewalks get less spicy as food carts removed
AP News
E
fforts by authorities in military-ruled Thailand to impose order on the chaotic capital city have a fresh target: cheap and tasty pad thai.
The latest crackdown by Bangkok city officials is going after the vendors whose carts sell everything from Thailand's signature noodles to spicy tom yum goong soup have become institutions on the capital's hot and humid sidewalks. The stalls with their metal folding tables and rickety plastic stools serve as a gastronomic go-to for budget-conscious locals and adventurous tourists alike.
"Street food is a big part of daily life," said Nont Nontiskul, 29, a stockbroker who has lived in the city's trendy Thonglor area for more than a decade. "Even people who eat at pricy restaurants every day can't avoid street food. It's faster, tastes better, and costs less than half the price."
Officials see street food as an illegal nuisance and have warned hawkers in Thonglor to clear out by Monday. They've said the evictions soon will expand to other neighborhoods. Officials have been emboldened by the military junta that has ruled the country since a 2014 coup and has stressed the need to clean up Thai society, whether it is corrupt politicians or crowded footpaths.
That has led to sometimes ham-fisted crackdowns on everything from street markets to beach umbrellas to overpriced lottery tickets. Observers say the poor, many of whom were supporters of the ousted government and its populist policies, have borne the brunt of many of the junta-backed campaigns and that the clean sidewalk effort will hit the vendors and their working-class customers hardest.
Thai crackdowns on corruption, prostitution, pollution, road safety and what-have-you — even those by the junta — are notoriously ephemeral, but officials are talking tough.
Boontham Huiprasert, a Bangkok district chief tasked with clearing out the sidewalks under his jurisdiction, said street food vendors are being evicted to fight traffic congestion and the accumulations of garbage.
About 90 Thonglor vendors and their carts will have to leave by Monday, after which the crackdowns will expand to neighboring streets, Boontham said. Violators could be fined up to 2,000 baht ($57).
"Just don't sell on the sidewalks," Boontham said. "People who sell stuff on the sidewalks, they don't pay rent. There are so many out there now, so we have to organize society."
In fact, the food sellers say they do pay rent in the form of small monthly under-the-table payments to city officials. It's an open secret that Bangkok's sprawling shadow economy is made possible by payoffs to powerful figures, often with ties to police or the military. Boontham said he was unaware of any payoffs and that it was not official practice.
Suchin Wannasutr has been selling khao kha moo — stewed pork leg — for 40 baht ($1.15) a plate on Thonglor's sidewalks for more than 20 years. The 47-year-old said he has been diligent about keeping up his monthly payoffs of 1,000 baht ($28.60), which is the same sum neighboring vendors say they have been charged.
He is now preparing to open a real restaurant, about 1.5 kilometers (a mile) away from his sidewalk spot. He will share the rent of 35,000 baht ($1,000) a month with three fellow street vendors.
"I have to stay in the area because I have regular customers here," Suchin said. "I'm doing whatever I can just to send my kid through school. Once she graduates, I will move out of Bangkok. It's tough here."
Critics say the government needs to do more to help vendors and to help preserve some the unique chaos that gives Bangkok its soul, which is rapidly being lost to government regulations and redevelopment for condos, shopping malls and office towers.
If the campaign against street food sticks, tourists will no longer stumble upon fried worms, grilled pork intestines or the legendarily smelly fruit durian. And it's unlikely the hip bars and fancy restaurants will be handing out food in plastic bags sealed tight with a knotted rubber band.
"I feel like I am losing my job and I have no idea what to do next," said 39-year old Ubolwattana Mingkwan, who sells coffee for 30 baht (85 cents) a cup. "I can't afford to pay Thonglor's rent prices."
"I've asked city officials for help and understanding," she said. "All they say now is 'No, no, no.' They said they've already received their orders."