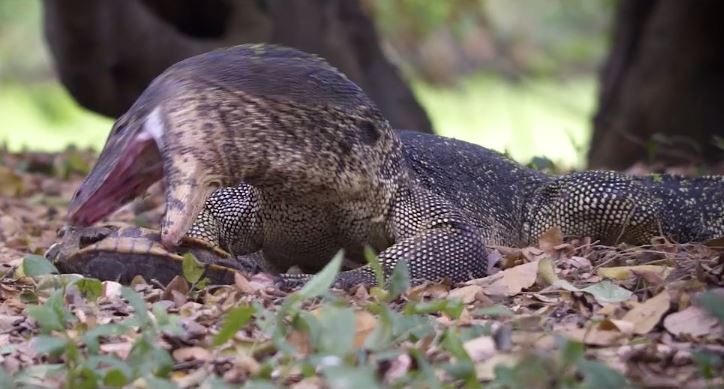 Bangkok Production House Releases Clip of Monster Lizard Swallowing Giant Turtle Whole
By Laurel Tuohy
Bangkok production house Rubber Knife Productions just released a short film that might teach even seasoned Bangkokians a thing or two they didn't know about the city's scariest creatures — monitor lizards.
The 5-minute clip, filmed over five afternoons in Rot Fai and Chatuchak Parks, was created for anyone that "appreciates nature, these awesome reptiles, and a good story," said Director/Producer Kevin Richard.
"We wanted to do something educational, but also add a smidge of humor to it. We live in a rush 24/7 era. Often, the cool things are happening right in front of us and they are free."
They featured monitor lizards, also called "hia" since the creatures often elicit this swear when spotted, because so many of them live close to the Rubber Knife office. Richard said, "We think they are amazing creatures who have passed the test of time and live harmoniously right here in Bangkok amidst the mayhem."
"It's a shame that they are looked at as a hindrance and are being 'relocated' from some parks to somewhere safer," said Richard, referencing the lizards that were removed from Lumpini Park last year.
"They've been here way longer than we have. We should leave 'em be."
About the filming and the ending of the short lizard narrative, Richard said, "We got really lucky to capture the turtle scene. It was a total fluke. Jim (the director of photography) and I were just wrapping up for the day when we decided to check one more spot. The next thing you know — a hunt! That was day two. We came another three times along with our new guy, cameraman Dennis Natrayon, to grab the rest."
So far, the creators are getting great feedback about the video. "We hope that the interest continues as we have a whole bunch of other things in the pipeline. Our dream would be to do this thing full-time. This has always been a pet project of ours when we are not working on corporate gigs as it puts us in total control of our storytelling and style."
The director added about the sad ending for the film's turtle, "As cruel as it looked and as much as we felt bad and wanted to save the turtle, we didn't want to disturb nature. Whether we were there or not, the same thing would have happened without the cameras rolling."
Co-writer and voice-over artist Jeremy Linn chimed in with, "As brutal as it is, it is truly fascinating that that level of wild animal activity happens in the middle of a city of 10 million people."
This article was originally published by Coconuts Bangkok. Read the original article.