Bangkok official: 'Yellow-shirt guy' is the bomber
by John Bacon and and Jane Onyanga-Omara, USA TODAY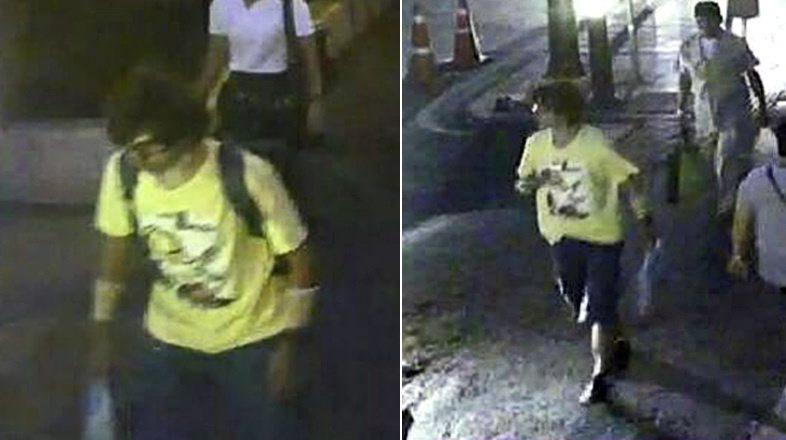 THAI ROYAL POLICE/EUROPEAN PRESSPHOTO AGENCY
Images from security video showed a man in a yellow shirt at the crowded Erawan Shrine who removed his backpack and left it behind as he walked away; police said the man was responsible for the bombing.

Thai police are looking for a man they suspect to be involved in Monday's bombing in Bangkok. Surveillance video seems to show him leave a backpack at the scene. Video provided by Newsy

Thailand's capital city was rocked by a bomb blast for a second day Tuesday while the manhunt intensified for a suspect in Monday's explosion that killed 20 people and wounded more than 100.
Tuesday's attack resulted in no casualties, however officials in Bangkok said the bombs were similar and likely the work of the same perpetrators.
A man recorded on surveillance video leaving a backpack under a bench just before Monday's explosion is suspected in the deadly attack at a Hindu shrine in a busy shopping and tourism district. National police spokesman Prawut Thavornsiri released several photos of the man, wearing a yellow T-shirt and carrying a backpack.
"The yellow-shirt guy is not just the suspect. He is the bomber," Prawut told The Associated Press.
Prawut told the Bangkok Post that Tuesday's pipe bomb, tossed from a bridge, was probably meant to land on a busy platform leading to a pier. He said the bomb instead hit a pillar and bounced into a canal, sending a large plume of water into the air. Video footage showed people running down a causeway over the canal to escape the blast.
Police Chief Somyot Pumpunmuang told the Post that Tuesday's bomb was much smaller than Monday's bomb at the shrine. But the bomb construction was similar, he said.
Authorities said no person or group had claimed responsibility for either blast.
Monday's explosion took place just before 7 p.m. local time near the Erawan Shrine, a Hindu religious site popular with Thai Buddhists and Chinese tourists. Thailand Prime Minister Prayuth Chan-ocha described the incident as the worst attack in his nation's history and vowed to find those responsible.
"There have been minor bombs or just noise, but this time they aimed for innocent lives," Prayuth said Tuesday. "They want to destroy our economy, our tourism."
A policeman photographs debris from an explosion in central Bangkok, Thailand, Mark Baker, AP
The Erawan Shrine reopened Tuesday and a stream of people knelt in prayer, lite incense and laid flowers at the site of the attack.
BMI Research, a subsidiary of financial information provider Fitch Group, issued a report warning that the attack could stall a fragile economic recovery that has been underway in Thailand. Thailand's Foreign Ministry said 23 countries had issued travel advisories since the bombing. The Hong Kong government was the toughest, raising its travel alert for Bangkok to "red," advising its travelers to avoid non-essential trips.
The attack "could undermine the recovery in the tourism industry, deepening the country's economic woes," the BMI report said. "The attack could also have political implications, given the highly polarized nature of domestic politics in the country."
Thai stock shares fell sharply Tuesday and the country's currency, the baht, fell to its lowest level in six years. Political tensions have increased in recent months, and the ruling junta, which took power in a coup 15 months ago, has said elections will be delayed until 2017.
Thailand's Defense Minister Prawit Wongsuwan said officials had no prior intelligence about the attack. Some terrorism experts said the bombing was likely the result of the country's growing internal strife and not the work of the Islamic State militants or other international extremists.
Mubin Shaikh, a terror analyst who closely follows Islamic extremists on social media, said there has been no Internet messages that suggest the bombing was the work of such jihadists. "It seems internal," he said.
Deputy government spokesman Sansern Kaewkamnerd said that five Thais, two Malaysians, two Chinese mainland nationals, two people from Hong Kong, one Singaporean and eight people of unknown nationality were killed in Monday's attack. British Foreign Secretary Philip Hammond said a female British national living in Hong Kong also was among the dead.
Tourists in Bangkok react with a mix of concern and stoicism to the deadly bomb blast that killed at least 18 people in the Thai capital on Aug. 17. AP
Man in yellow shirt is focus of Bangkok bombing probe – The Boston Globe

To stay in the loop, bookmark Terra Thailand – The Blog.