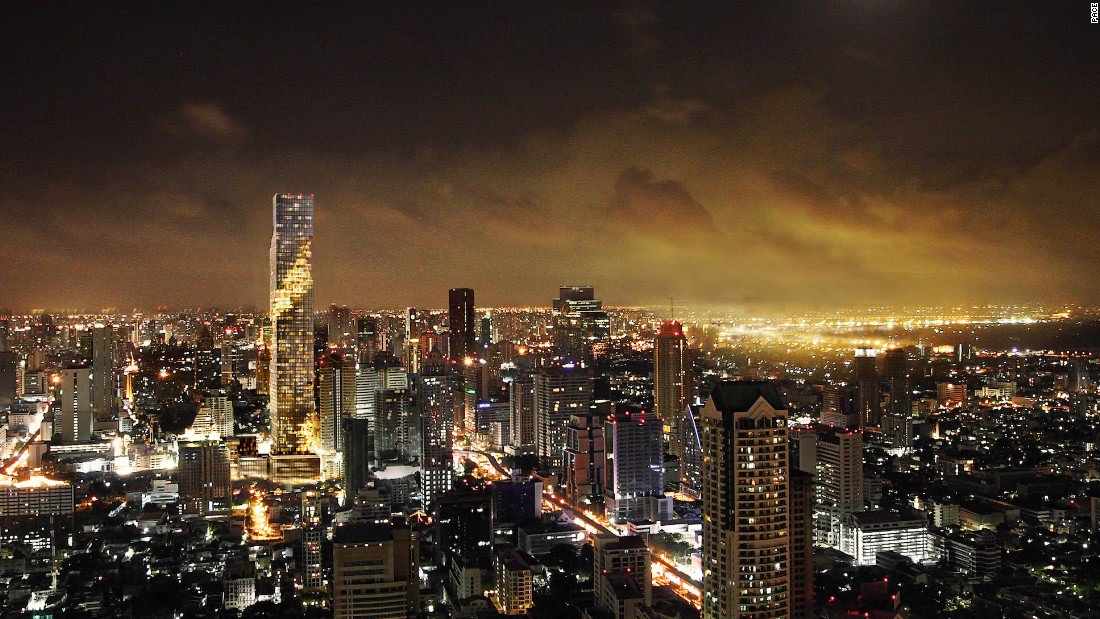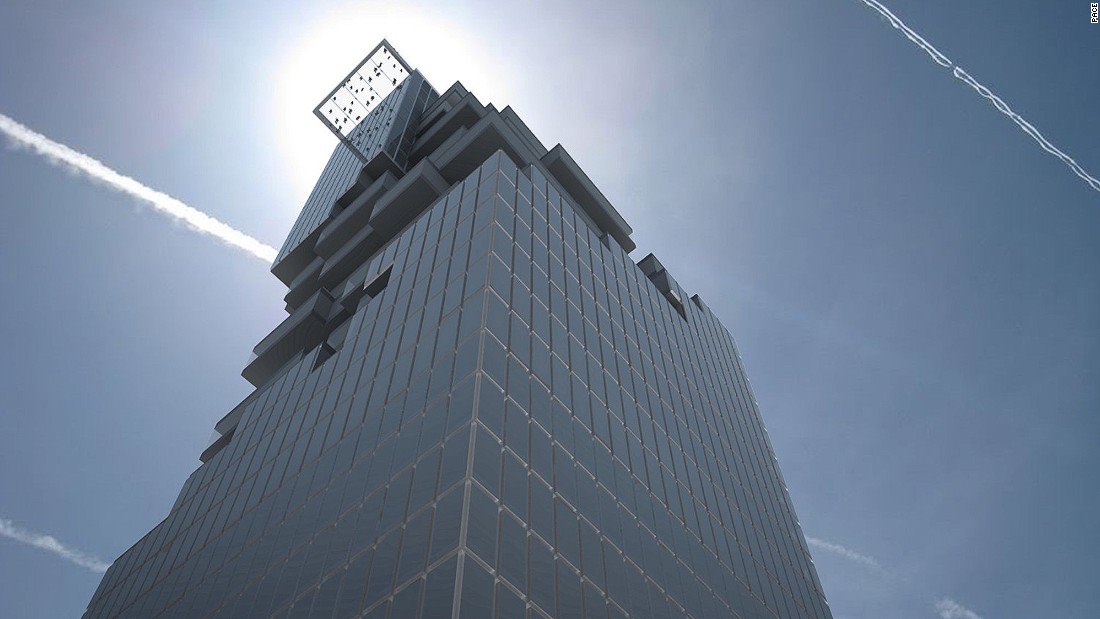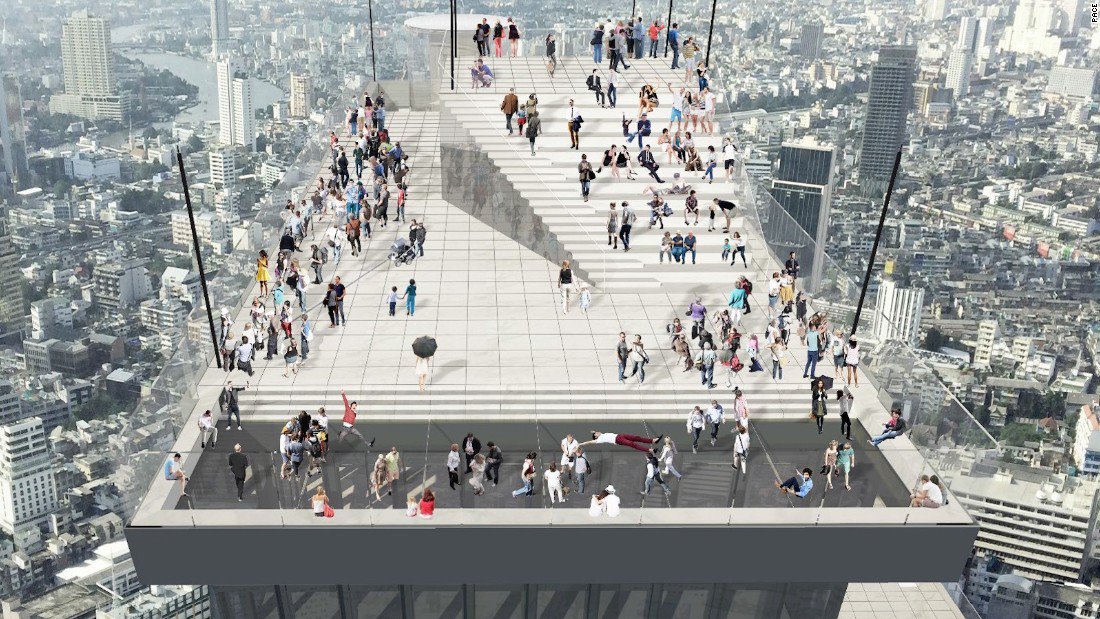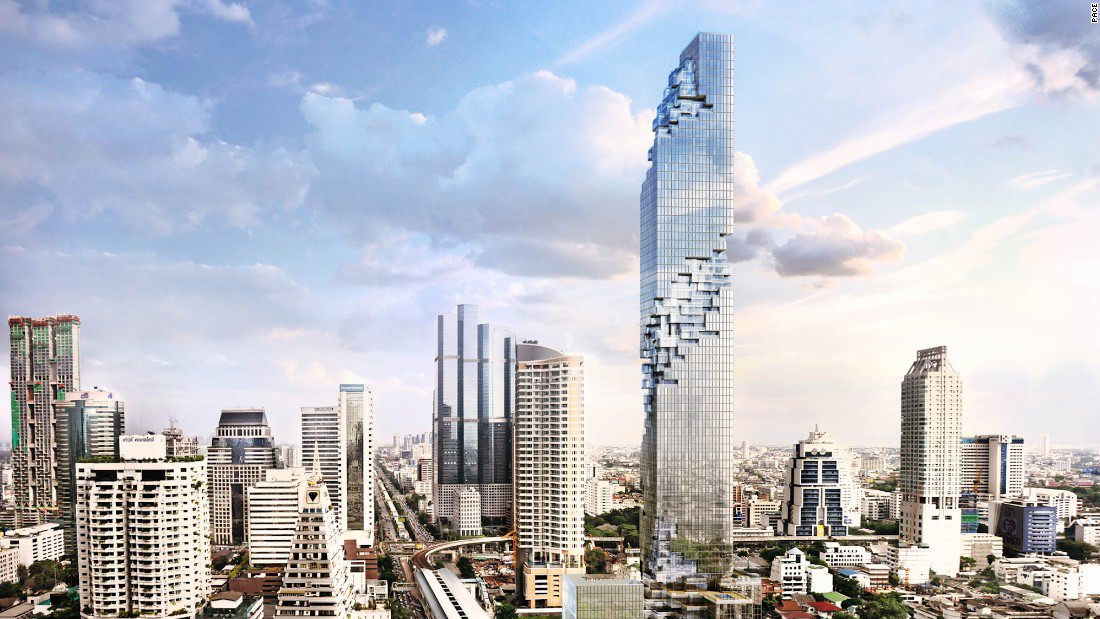 170612090028-1-mahanakhon-super-169 1-of 10
170612102949-5-mahanakhon-bangkok-super-169 2-of-10
170612092845-4-mahanakhon-bangkok-super-169 3-of-10
170614222315-4-mahanakhon-4-super-169 4-of-10
170612091050-2-mahanakhon-super-169 5-of-10
170612092650-3-mahanakhon-bangkok-super-169 6-of-10
150529091621-6-bangkok-restaurants-latelier-super-169 7-of-10
170614221449-1-mahanakhon-rooftop-super-169 8-of-10
170614221724-2-mahanakhon-rooftop-super-169 9-of-10
170614222125-2-mahanakhon-rooftop-super-169 10-of-10
A Sneak Peek from Atop Thailand's New Tallest Building
by Karla Cripps
June 16, 2017
T
he Skytrain, over 300 meters directly below, snakes across its elevated track like a miniature toy train.
Nearby, cars limp down Bangkok's Naradhiwas Rajanagarindra Road in the evening traffic, tiny specks with glowing pinpoints for headlights
But it's the views of the Chao Phraya River off in the distance that impress the most; unbroken vistas of the "River of Kings" and its dramatic twists, the flowing water marred by the slim lines of wake that trail behind the barely distinguishable boats that cut through it.
These are just a few of the scenes that will pull at the camera lenses of visitors to the Sky Observation Deck and Bar atop Thailand's new tallest building, the 314-meter MahaNakhon.
Now comes the bad news. Though the building's structure is complete, the rooftop attraction — with its very own cantilevered glass floor — won't open till 2018.
CNN was recently given an exclusive tour of MahaNakhon by the project's creator, Pace Development CEO Sorapoj Techakraisri.
For now, the rooftop is a mass of scaffolding, concrete and steel.
Though it requires a huge leap of imagination to envision the rooftop attraction in its final form, when looking at the empty frame where the glass floor will sit you can almost hear the terrified squeals of tourists creeping across it to pose for photos.
How does it stack up to regional rivals?
MahaNakhon's 2016 completion knocked out previous "Thailand's highest building" titleholder Baiyoke Tower II, a 304-meter-high hotel in the city's Pratunam district completed in 1997.
MahaNakhon is the fourth-highest building in Southeast Asia, falling behind Kuala Lumpur's twin Petronas Towers and Hanoi's Keangnam Hanoi Landmark Tower.
Like something created by the mind of a skilled Minecrafter, MahaNakhon's striking steel and glass figure rises into the sky, a three-dimensional strip of "pixels" weaving its way down the building — an architectural trick achieved through the construction of "sky boxes."
"We hope that this would be something that Bangkok people would be proud of, as the architectural landmark shows another side of Bangkok to the world," says Techakraisri.
The CEO says he wants MahaNakhon to offer visitors a new perspective on the city.
"People know Bangkok for tourism, for service, for food, for culture, but they don't realize that we [also have] quite a big economy, and I think to have a modern, very international level of architecture, would send a very different message to the people in the world," he says.
So what inspired the building's name?
"MahaNakhon is actually part of the Thai name for Bangkok city — Krung Thep Mahanakhon — which means 'city of angels, the great metropolis,'" says Techakraisri.
"We feel that Bangkok is known for many things but we would also like this building to be part of the future, part of what people would remember — [that] Bangkok is a great metropolis."
What else can visitors experience?
MahaNakhon is a mixed-use project, worth an estimated cost of close to $1 billion.
The main MahaNakhon skyscraper has 77 floors. Floors one through 20 will feature the Bangkok Edition Hotel, a boutique hotel operated by the Ritz-Carlton.
Floor 73 is where you'll find the penthouse Sky Residences, which range in size from 125 to 844 square meters (two to five bedrooms.
Levels 74-77 will be reserved for the observatory/bar.
A separate building on the project's grounds, the already-opened MahaNakhon CUBE is a high-end retail and dining space that includes venues like L'Atelier de Joël Robuchon, VOGUE Lounge, Morimoto Bangkok, M Krub and Bangkok's flagship Dean and DeLuca.
This article was originally published by CNN Travel. Read the original article.
WATCH | The World's Top 10 Tallest Buildings
Related: