Notorious Occult Conman Accused of New Sex Scandal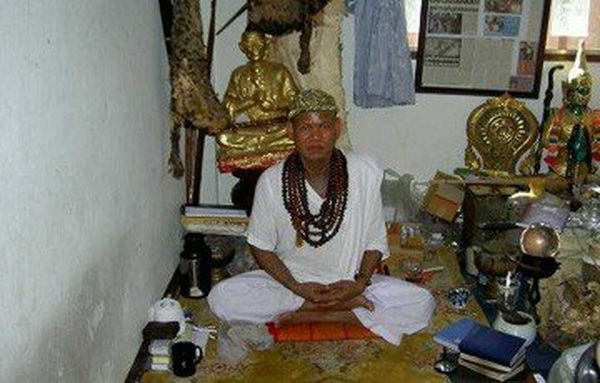 Occultist Harn "Nain Ae" Raksajit
Police yesterday searched the Ban Poklon monastery in Lop Buri's Ban Mi district where they had arrested occultist conman Harn Raksajit – better known as Nain Ae who was infamously involved in grilling carcasses of stillborn babies – on Friday evening for defrauding and sexually abusing a Thai woman who paid him Bt50,000 to conduct a ritual to regain her estranged foreign husband.
The monastery's head monk led police to see the room where Harn had stayed and said Harn had been there only for a day while awaiting transport to go and perform a magic ritual in Roi Et province, prior to the arrest. He said Harn was aware that police were coming to arrest him but didn't flee because he insisted he hadn't done anything that he was accused of.
Following his arrest on Friday evening, the 55-year-old Harn was brought to Nonthaburi province, where the 40-year-old woman had filed the complaint against him. Police said Harn allegedly performed a ritual on April 25 in which a love potion was poured onto her forehead, tongue and breasts after which she was required to have sex with him in order "to make the sexual charm potent". Harn charged her Bt50,000 for the ritual. However, a month had passed without the ritual yielding any result so she realised that she had been duped. She filed a complaint with Bang Sri Muang Police in June. Police, who had secured an arrest warrant for him on charges of fraud, found that Harn had fled to Lop Buri, where they located him and arrested him.
The one-time Buddhist novice was defrocked in 1994 after he was found to be producing "magic potions" from stillborn infants. Harn was convicted and jailed in 1995 for that offence. Later in 2005, his former wife filed a complaint accusing him of raping or convincing women to have sex with him by claiming this would make them more attractive to men while also recording videos to blackmail them later. Harn was arrested on July 10 that year. He was later sentenced to a combined 100 years in prison for sexual assaults on many women, and got it reduced to 75 years due to his useful confession. However, he was released in April this year and returned to his old ways.
Before police applied for the first court-imposed 12-day detention period, Harn testified at Bang Sri Muang Police Station yesterday morning.
Case investigator Pol Lt-Colonel Wichien Kasibutr said Harn denied all charges against him. Wichien said police would ask the court to refuse him bail due to him being a flight risk.
Two more alleged victims have contacted police, he said, adding that one of the alleged offences related to an amulet fraud and the other a charm ritual.
To stay in the loop, bookmark Terra Thailand – The Blog.