Math Teacher Under Investigation for Slapping Schoolgirls
by Teeranai Charuvastra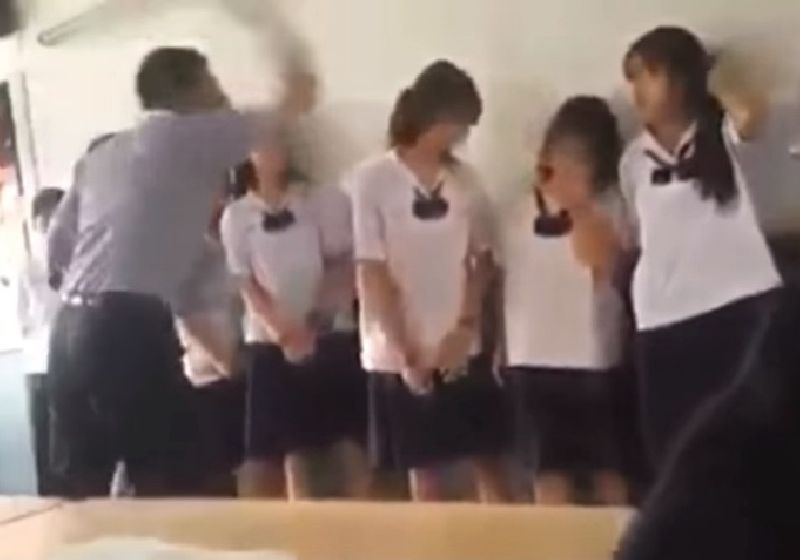 A 59-year-old math teacher faces disciplinary action after a video spread showing him smacking schoolgirls in front of the classroom.
Director of the Thammasat Khlongluang Withayakhom School in northern metro Bangkok said the teacher, Thanabodi Polrak, had good intentions when he slapped the ninth-graders Tuesday morning for repeatedly failing to turn in their homework.
"The teacher admitted he was caught up in momentary rage. He didn't intend to use violence on the children," school director Surachai Pinyocheep told reporters Thursday. "He used the wrong method of punishment, but his intention is for the kids to have [good] marks for their grades at the end of the semester."
The incident was captured on video and uploaded Wednesday to YouTube. The video showed the teacher lining up a group of female ninth-grade students in front of the classroom and smacking some of them in the head.
The video uploader said Thanabodi slapped the girls because they wore winter clothes to school and "looked like hill tribe children," but director Surachai denied that was the case.
The Ministry of Education has banned corporal punishment such as caning since 2005, but the practice is still common in many Thai schools.
Comments in the slapping video are divided between those who believe Thanabodi's actions were excessive and those who applaud his methods as justified in Thai culture.
"I have seen this kind of thing, but it was way more violent," wrote YouTube user Ratchaphon KM9. "I was in 3rd grade. It was over 10 years ago. [The teacher] slapped me, beat me, threw books at me, and scolded at me. But I love this teacher. If that teacher didn't teach me with such a dark style, today I'd still be illiterate. I don't know why I love this teacher so much."
Others disagreed.
"If they didn't turn in their homework, just give them an F," wrote Penneuhng Chan-o. "He didn't have to be this violent. The kids could [literally] lose their heads. This is insane. Don't say you slapped them because you love them, because if you are this violent, it's better not to love them, lest their heads and brains get splattered."
School director Surachai said Thanabodi has been verbally reprimanded for his actions. Any further punishment will be decided by the inquiry committee, he said.
The students' families, he added, said they will not press charges.
[
Khaosod English
]
To stay in the loop, bookmark Terra Thailand – The Blog.